Our Vision for Southern Heights is:
"I AM THE CHURCH WHEREVER I AM"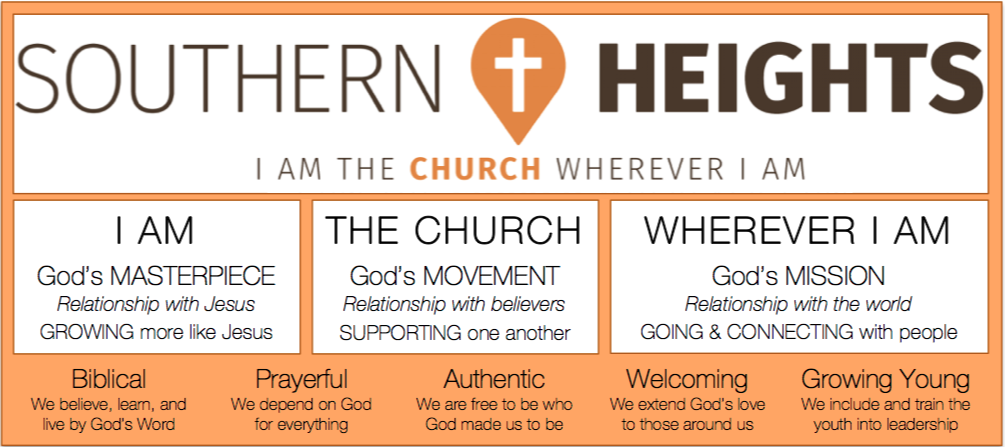 Our vision of "I Am the Church Wherever I Am"
is a statement that drives who we are and what we do.
It begins and ends with "I AM" meaning that God, the Great I Am, is the beginning and end of all we do.
"I Am"– It starts with our relationship with God through Jesus.  We realize we are sinful and we need a Savior. God loves us as His Masterpiece.  It is this salvation and redemption that gives us hope for the world.
"The Church"–  We are part of something much larger: God's Movement, the Church.  We cannot and should not be alone in our faith.  Our relationship with other believers gives us support and encouragement in our journey together toward Jesus.
"Wherever I Am"– Together we are on God's Mission to the world.  Whether near or far away, "wherever we are" is our mission. We must build relationships and lead people toward Jesus.
Our five guiding values:
Biblical– Daily in God's Word.
Prayerful– Constantly in communication with God.
Authentic– God made us individuals with unique gifts.
Welcoming– Our doors and hearts are always open.
Growing Young– Developing the next generation of leaders.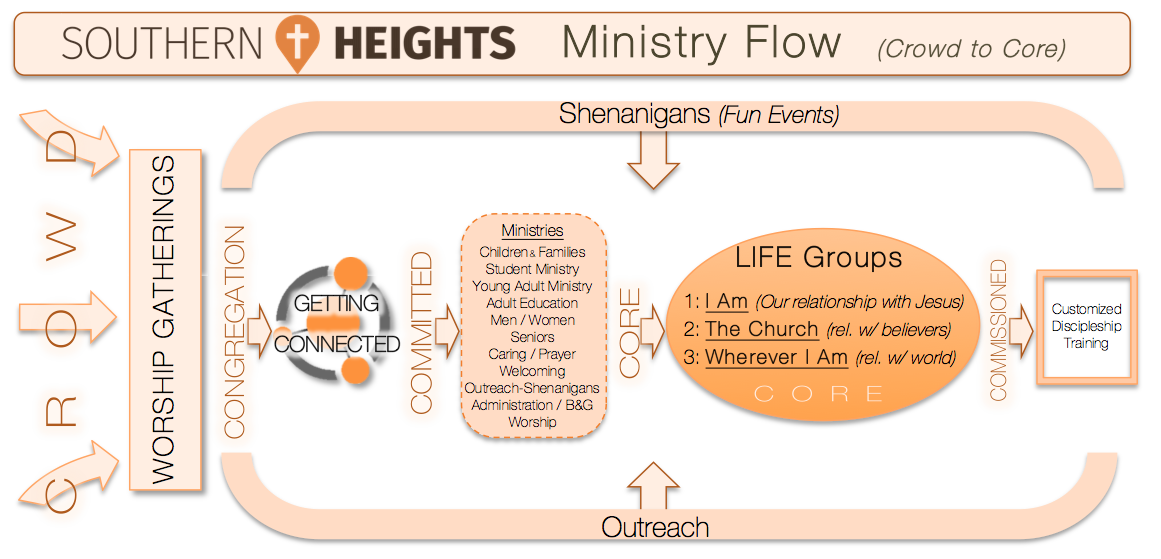 Our Ministry Flow can be described as a "Crowd to Core" strategy. We realize that people and relationships are complex and that a person can engage in any number of ways. We view our strategy as an overall structure for encouraging people to move from first time guest to engaged, core member.
A person can visit Southern Heights for the first time through a:
Weekly worship gathering– with a welcoming atmosphere.
Bi-monthly fun event– with a "non-churchy" feel.
Quarterly outreach event– with a theme to draw interest.
Once someone visits, they are welcomed and encouraged to join our Getting Connected classes. These include regularly scheduled Pizza with the Pastor events to begin establishing a rapport. Next, people are encouraged to use their gifts in an appropriate ministry.
They are eventually encouraged to join a Life Group through which the church's vision is explored more deeply in a small group setting.  Activities include Biblical curriculum, group outreach and social gatherings.
To compliment these experiences, customized discipleship training is also available to meet specific needs.