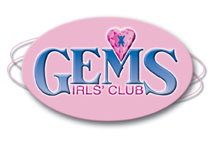 GEMS means "Girls Everywhere Meeting the Savior". It is a place for girls from 1st to 5th grade to learn together about Jesus. The time is filled with games and dance and crafts and Bible study. All together with other girls the same ages. It is a special time.
GEMS will meet every 1st and 3rd Wednesday evenings from 6:00 to 7:30pm
We are now on Summer break.  Check back here for our fall kickoff dates and activities which will start in September.