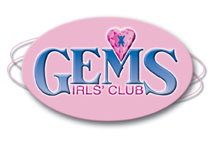 GEMS means "Girls Everywhere Meeting the Savior". It is a place for girls from 1st to 5th grade to learn together about Jesus. The time is filled with games and dance and crafts and Bible study. All together with other girls the same ages. It is a special time.
We are excited to offer GEMS in person.  However because of COVID restrictions, GEMS will only be able to meet every 3rd Wednesday evenings from 6:00 to 7:30pm.  This will allow for proper physical distancing with other ministries happening at other parts of the building.  We will keep informed with COVID news and if meetings are able to happen more frequently in the future we will adjust the schedule accordingly.
GEMS will meet from 6 to 7:30pm on the following dates:
January 20
February 17
March 17
In order to properly adhere to CDC guidelines, we will do a quick touchless forehead temperature scan upon entry.  Masks or face coverings will be required inside and the leaders will make sure that 6 feet of physical distancing is kept.  If you have any questions, please feel free to contact the office for more details.  The health and safety of your children are at the highest of our priorities.  We are excited for this season and we pray that GEMS will have a lasting positive impact for your children.